I'm dusting off the dust bunnies with a spring cleaning. Every year I go through a process of simplifying my life, and then somehow I end up accumulating THINGS and have to go through it all over again. I'm sure there's some kind of beauty in the process, but at the same time I'm like, "Really? Again?!"
But in cleaning up, I found my 3″ research binder for an Avalon novel-in-progress, The Green Girls Garden Club. I had put the binder together a couple of years ago, right after I finished writing The Avalon Ladies Scrapbooking Society. I'd had a garden then, a nice-sized one actually, and one day while I was digging weeds out of my vegetable beds I wondered, "What would happen if a woman whose husband mysteriously disappeared several years earlier found something buried in her back yard?" No, not a body. Buried treasure. The hope, of course, is that it will lead to clues of her husband's whereabouts. But like with all things in Avalon, things are not always as they seem.
I started assembling images and phrases that inspired me. Gardening, growth, regrowth. Those are themes I love and keep coming back to for this book. Also unexpected friendships, good food, and a lovable but not too bright stray Labrador named Achilles. Click on any of the images if you'd to see a bit of what's being planted for the book…

Here's my tip for new and experienced gardeners: KEEP A GARDEN JOURNAL. I kept a digital garden journal that let me snap pictures at different stages of a plant's growth. It was fun to see a plant progress (or not), and helped me figure out issues like stunted growth due to lack of sufficient sun, pest control challenges, and so on. You think you'll remember but if you're like me, you won't! Choose an app that will let you print out your entries. If you keep a notebook or written journal, be sure to update and embellish with photos.
Now onto the giveaway. Actually, make that giveaways, plural. If you love to read, and if you love freebies and giveaways, you'll want to be in on this. It's the Authors in Bloom Blog Hop, which runs from Thursday, April 7, 2016 to Saturday, April 16, 2016. That's 10 days of giveaways, gardening tips, recipes and a grand prize: a Kindle Fire or Nook, winner's choice.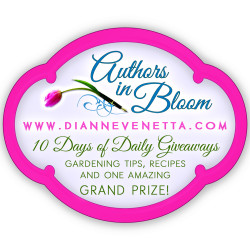 How to Enter: Participating authors will post their giveaway, gardening tip or recipe on their respective websites.  You will have 10 days to enter each individual author contest (over 50 in all) and then submit an entry for the grand prize.
To win the grand prize, you must visit each and every author on the hop. Grand prize entrants will be entered via Rafflecopter, available on the first and final landing page of this hop, located on BloominThyme.  All winning entries will be verified.
What will be given away? Everything from books to swag, promotional products and more. The grand prize is an e-reader of your choice (up to $200 value). A second prize of $25 gift card for an e-book retailer gift card.
I'm giving away my latest favorite kitchen gadget: a veggie spiralizer from Paderno World Cuisine A4982799 Tri-Blade Plastic Spiral Vegetable Slicer. I love mine. I'm sure you've seen them around but if not, this will help you get more veggies on your plate. Plus it's crazy fun! The winner will receive this plus a copy of any of my books (print, ebook or audiobook), winner's choice.
What do I do when it's all over? On April 18th, the grand prize winners will be posted on  BloominThyme. Individual authors will announce and contact the winners of their author-specific giveaways on their own websites. You will be required to claim your prize according to each giveaway's terms and conditions.
Speaking of, I will be on the road when the contest ends and won't be able to choose a winner until the beginning of next month. During the week of May 1, 2016, I'll choose a winner at random from all the qualified entries and send out the spiralizer, pronto! So don't fret and sit tight for a couple of weeks. Breathe. Garden. Read. All good options.
To enter my giveaway, all you need to do is leave a comment below telling me (1) who you are and where you're from, and (2) who is your favorite character from any of my books and (3) why you like them. Haven't read my books yet? No worries, choose a book from any author you love! U.S. and Canada residents only (sorry!).
Have fun hopping around, and good luck!
---
The winner of the 2016 Spring Hop is Taylor Zamora! Congratulations, Taylor!